I picked up one of those pretied headscarves in an end-of-season sale a while back, and decided that the heavy velour they used didn't work well. (It was uncomfortably bunchy in back). Therefore, I did what anyone would do. I deconstructed it to see how they made it so I could try to make some of my own!


Here's the deconstructed piece of fabric from the store bought version. It looks kind of like a sting ray or some other sea creature.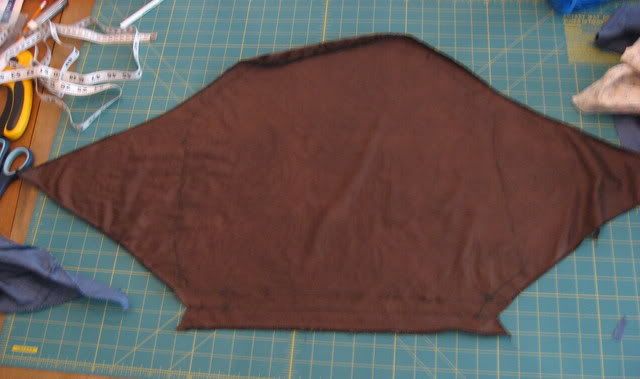 From triangle-point to triangle-point it is 38 inches. Front to back is 18.5 inches and the front measures 16 inches across. The headband front is on the bottom in my picture, and the elastic makes a u-shape straight back on both sides and following the curve of the fabric in the back.

I cut out a matched piece in a light weight chambray. The front piece gets folded back to make a nicely finished edge. In the original the rest was overlocked, so for my first try, not having a serger, I just zig-zagged the rest. In the original they seemed to stitch a short piece of elastic directly onto the fabric leaving the two triangular side pieces free to act as the ties. The elastic did all the gathering. I haven't mastered that technique yet, and I don't think the elastic I have would even stretch that far, so I cut out a strip of fabric to sew to the inside to act as a casing (note to self, it was 44 inches, and that was exactly right.) Then I threaded a short piece of elastic through the casing and secured it on the two ends at the front of the scarf. (another note to self, it was 9 1/2 inches long and that was too long, try 8 1/2 or even 8 inches.) This was the results: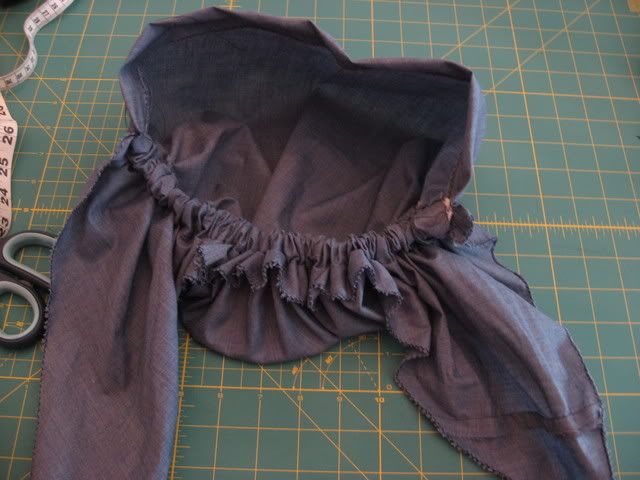 Sorry, no intermediate photos, this was my lunch break!

Here it is on an old sheitel head with my very old sheitel!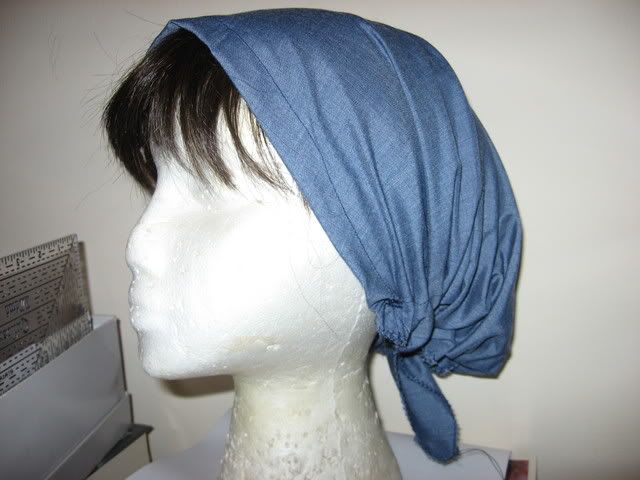 Here's another view:




Not great, but it's a start! I think it would work better with a fabric with a softer hand, hence the popular lycra ones you see everywhere. I've got it on my head now, but it's a bit loose still. I'll need to shorten the elastic a bit more. I also want to finish the edges of the ties next try.